Scallop Corolla with Lime and Pawpaw
Special Valentine's Day Recipe
by Chef Dominique Fonseca, Le Coq Hardi, Pouilly/Loire
to be enjoyed with a Pouilly Fumé Gemme de Feu
Ingredients - Serves 2
6 Scallops
Corn salad
1 pawpaw
1 lime
1 small red onion
Dill
Olive oil
Method
To perfectly clean the corn salad and get rid of the sand grains, cut off the roots and let the leaves soak in a bowl full of water. Gently lift the salad out of the water and put it in a strainer.
Get the marinade ready by squeezing the lime. Add salt and pepper to it and whip up with olive oil, like a vinaigrette.
Half the pawpaw, remove the seeds, peel off and finely dice except for one tablespoon of pawpaw that will be smashed as a fruit puree.
Finely dice the red onion and add to the diced pawpaw into a bowl. Season with salt, pepper and a dash of olive oil.
Cut the Scallops into 5 slices, season with salt and pepper.
Serving
Put a crumpet hoop in the middle of a plate.
Start by laying the corn leaves around the crumpet hoop, like a corolla (stalks to the center).
Then carefully top the salad leaves with the 15 fine slices of scallops, allowing the very end of the leaves to jut out over.
With a teaspoon, fill in the crumpet hoop with the seasoned onion and pawpaw dice.
Add some finely chopped dill to the lime marinade and put it on the scallops with a brush.
Draw up a line with the pawpaw puree all around the corolla.
Delicately remove the crumpet hoop and serve straightaway.
Pour the hot vichyssoise watercress around and enjoy straightaway.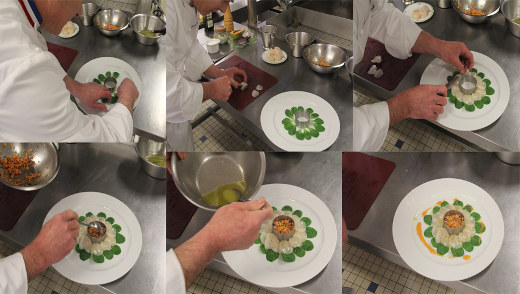 others recipes...
> Cod Steaks with Green Asparagus and Citrus
> Bruschetta with hot Goat Cheese and Olive Rounds
> Orange and Strawberry Floating Island
> Summer Fruit Refreshing with Pouilly Wine Jelly
> Oyster fritters
> Granny Smith Apple and fried Foie Gras
> Vichyssoise Scallops with Caviar and Watercress
> Organic Smoked Salmon Charlotte and Cauliflower Remoulade